As with many kitchens, you likely own (or want to own) a high-power blender, a food processor, and a personal blender. The high-power blender is great for margarita night, the food processor is great for soups and sorbets, while the personal blender is perfect for quick smoothies before you jet for work.
Does your kitchen have space for all 3 of these, oftentimes bulky appliances and all their accessories? Chances are you have already experienced the frustration of losing vital accessories to one of the appliances, and now the clunky base is simply taking up space. There is an alternative solution!
ON SALE!
Ninja
Mega Kitchen System
Up to 72 oz
3 Speeds +Pulse
2 HP | 1500 watt
3x Pitchers, 2x Cups
3x Blades
Recipe Book
Dishwasher Safe
1 Year Warranty
Check Price at Amazon
The Ninja MEGA Kitchen System combines all the functions of a high-powered blender, full-size food processor, and personal blender into one convenient appliance. Each unit is completely functional with the main base, so you won't need space-consuming adapters!
You can blend, puree, crush, or even thoroughly incorporate with the Ninja MEGA Kitchen System.
What's Included?
With the Ninja MEGA Kitchen System, you will receive:
1500 Watt, 2 Horsepower motor base
72 oz (or 9 cups) blending pitcher and locking lid
64 oz (or 8 cups) food processing bowl and locking lid
2 16 oz (or 2 cups) personal blender cups with to-go lids (for easy sipping on the go)
Personal blending cup blade
Triple-stacked pitcher blade for total crushing technology
Double-stacked food processor blade for chopping
Double-stacked dough blade attachments for the food processor
24 oz (or 3 cups) bowl-in-bowl adaptor
Bowl-in-bowl chopping blade adaptor
Instruction Book
Quick Start Guide (with recipes!)
Inspiration Guide (more recipes!)
Bringing Advanced Technology to Your Kitchen
The motor base is exceptionally high-powered. It has 3-speeds (dough, blend, crush), pulse, and a single-serve-specific function. This gives you the most control without a complicated system of buttons. The base even comes with locking, rubber-suctioned feet that will prevent the blender from moving while in use!
The blades use Total Crushing Technology to deliver you a finished product with all its ingredients fully incorporated. With most blending systems, there is a single blade that rests on the bottom. With Total Crushing Technology, three sets of blades are stacked on top of one another to ensure maximum blending.
Even with all the horsepower and Total Crushing Technology, you can still use the Ninja MEGA Kitchen System to mix something as delicate as pie dough. The food processor comes with gentle dough blades that can mix up to 2 pounds of pie dough in as few as 30 seconds!
The Best of the Best – Blender Edition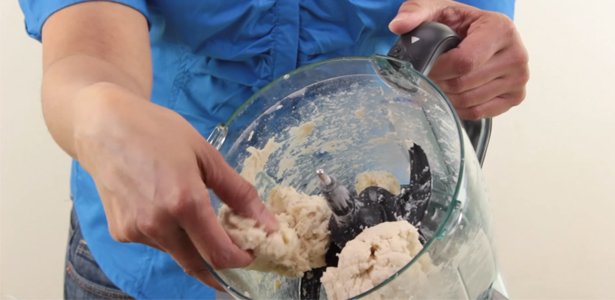 With the Ninja MEGA Kitchen System, the perks almost seem endless. With one device, you can make soups, dough, single-serve smoothies, and more. What else could you expect outside of the incredible power, impressively advanced technology, and all-inclusive system? Thankfully, you can actually expect more with MEGA.
First, your Ninja MEGA Kitchen System comes with a mess-safety function. Both your lids and containers lock in place. Arrows indicate where everything should line up to make it exceptionally easy to figure out where everything goes and locks in.
Then, if you press the power button to begin blending, crushing, or mixing and something isn't locked in properly – be it the lid or the container, the power light will flash red, and the blending buttons won't work. If you have ever accidentally put a blending lid on haphazardly, you already understand why this is a great feature!
Not only do you get a personal blender function, but you also get 2 personal blender cups! This is great for families that consist of more than one busy individual who wants a smoothie to-go. The personal blender cups also include convenient sipping lids that make drinking your quick smoothie on-the-go a breeze.
Finally, all of the containers and attachments are BPA-free and dishwasher safe. Your high-powered motor base, containers, and attachments are all protected by an included 1-year warranty. So not only will you experience safety and convenience with your Ninja MEGA Kitchen System, but you can also enjoy protection.
Why Not Ninja MEGA?
As with most appliances, there are bound to be drawbacks. Chances are, if you have seen the Ninja MEGA Kitchen System in action, you may have already determined what some of those drawbacks are!
The motor base is bulky. This is true. It is difficult to cram 1500 watts and 2 horsepower into a portable-sized device. As a result, the motor base does take up a decent amount of space. However, it is replacing a blender, food process, and personal blender – so you are still saving space in your kitchen!
The food processor is too big. For many families, standard food processors are never big enough! This food processor size ensures that families of all sizes can enjoy the benefits of a food processor. The Ninja MEGA Kitchen System also includes a bowl-in-bowl attachment that allows you to reduce the volume of the food processor to 3 cups.
There are too many features. I won't use them all! Don't fret! The Ninja MEGA Kitchen System is a great value even if you only use one of the functions. In the box, you will also find an Inspiration Guide to help you use the other features if you are feeling daring!
With as many benefits as this blender offers, it's no wonder that the Ninja MEGA Kitchen System is a staple in any home!
FEATURED PRODUCT
ON SALE!

Ninja Kitchen System

2 HP | 1500 watt
3 Speeds +Pulse
3x Pitchers, 2x Cups

Check Price