If you are new to the health craze sweeping the nation, you are likely in your infancy stages of correcting your nutrition and diet. Honestly, this is the most important step to living a healthier life, as 75% of tracked weight loss is due to a healthy diet.
Even if you aren't aiming to lose weight, you will likely feel better in only a few days when you trade in your soda for a delicious smoothie. Some food items will take some getting used to, such as kale and natural peanut butter, but your body will thank you by giving you a longer life!
Now, you may be wondering how to get a perfectly blended smoothie. The answer is simple: a high-powered emulsifying blender. When it comes to finding one that is right for you, there is only one brand you need to query, and that is Vitamix. Both the 7500 and the 5300 models are the perfect answer to your life change.
ON SALE!
Vitamix
7500
Up to 64 oz
10 Speeds + Pulse
2.2 HP Motor
1x Pitcher
1x Blade (Dull)
Recipe Book + DVD
Dishwasher Safe
7 Year Warranty
Check Price at Amazon
Vitamix
5300
Up to 64 oz
Variable Speed + Pulse
2.2 HP Motor
1x Pitcher
1x Blade (Dull)
Recipe Book
Dishwasher Safe
7 Year Warranty
Check Price at Amazon
What's Included – Vitamix 7500
The Vitamix-brand blenders are different from personal blenders on the market. The Vitamix manufacturer has made a blender that is ideal for your whole family. Ideally, you shouldn't be the only person in your house taking on a healthy lifestyle, and the Vitamix 7500 is here to help.
What you will find in your Vitamix 7500 box:
2 Horse Power Motor Base
Low-Profile 64 Oz Blending Container with Blending Blade
DVD with Helpful Tips
Guide for Getting Started
Cookbook
Low-Profile Tamper
Your Vitamix 7500 will be able to blend at different speeds and rates to offer a variety of textures and uses. You can make baby food, sorbets, batters, dressings, smoothies, doughs, almond milk, dips, nut butter, and even hot soups. Your ability to create with the Vitamix 7500 is truly unlimited.
What many users love about their Vitamix 7500 are the power and reliability. They also appreciate the ease-of-use and how easy it is to clean. Most users boast that they use their Vitamixes every day and aren't sure how they lived without one!
Alternatively, some users complain of the cost but often couple this complaint with the quality – complimenting that it is worth every penny. Other users have complained that it is extremely loud, but that is to be expected with a 2.2 horsepower motor.
What's Included – Vitamix 5300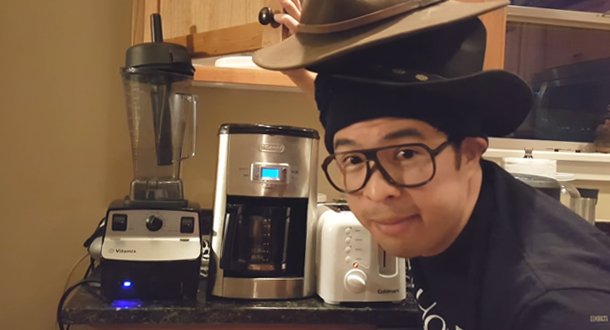 With the Vitamix 5300, you are looking at an "older" model compared to the 7500. You'll find it includes fewer things, but it will ultimately still function the same. You can expect to make everything you can make with the 7500, just with a different model of Vitamix.
What you will find in your Vitamix 5300 box:
2 Horsepower, High-Performance Motor Base
64 Oz Container with Blender Blade
Getting Started Plus Guide
Tamper for Blending Hot Ingredients
With the Vitamix 5300, what many users love is that it is a true companion in the kitchen. While with some appliances, you will find yourself planning your meal around your investment, many users brag that they use their Vitamix blender as a way to make every meal easier to prep, cook, and clean up after.
Some users have complained that the 5300 model is incredibly loud. While that is to be expected with the high-power motor, the 7500-model had a slight improvement in sound protection. Some users also complained that the design of the container was meant to make counter-top storage easier, but it sacrificed functionality as it doesn't completely blend all ingredients.
How the Two are the Same and Different
Ultimately, both versions of the Vitamix are very similar. They both use a 2.2 HP blending motor, a 64 Oz low-profile container, and come with a tamper to allow steam out for hot ingredients. They also both include a 7-year warranty and guide for getting started, which will be similar as they use the same type of blending-control dial.
How these two devices differ is that the 7500 model is promoted as being quieter and includes a DVD and cookbook. The Vitamix 7500 is officially a new model of Vitamix, but it truly functions the same as the 5300 model.
Which is Best for Me?
When it comes to blending soups, sorbets, dressings, and so on, either model will get the job done with impressive power. If you are new to the healthy lifestyle scene, you may find it beneficial to get the 7500 model as it comes with a DVD and cookbook that will give you a bounty of ideas for mealtime.
Your Shopping List Summarized
Both the Vitamix 7500 and the Vitamix 5300 are very similar. They both include the power base, container with blending blade, and tamper for steam-production ingredients.
The 7500 also includes a DVD and cookbook and has also been sold as being a quieter version of the 5300. Either model is a great solution for a person in need of a high-end emulsifying blender.
For the people who feel the Vitamix 5300 is the way to go, we also have a second comparison you may want to see – our Vitamix 6300 vs. 5300 guide.
FEATURED PRODUCTS
ON SALE!

Vitamix 7500

10 Speeds + Pulse
Up to 64 oz
2.2 HP Motor

Check Price
Vitamix 5300

2.2 HP Motor
1x Pitcher
Up to 64 oz

Check Price