Blenders needn't be super expensive! Long story short, it all depends on what you planning on doing with it once you get it home. There are a lot of cheap blenders that break within months of constant use and the blender will all the bells and whistles you don't need.
The key is matching your budget with a blender that does as you expect. In this review, ill dive into three of the commonly known blender in an attempt to find you the perfect match!
Finding you Ideal Match
Blenders typically fall into three major categories. Those you can add liquids to for the creation of hot creamy soups. They feature the most functionality, allowing you to pulse and adjust the speed via a variable speed control knob. They typically start at $200. Any less and you'll be scarifying price over quality and durability.
The next category features blenders for green smoothies that result in a smooth consistent texture without lumps of frozen berries or half emulsified nuts at the bottom. There are a lot of cheap blenders out there that can do the job but are not designed for regular use. These generally start at $80 and increase with functionality.
Lastly, your everyday garden variety blender used to chop and blend ingredients without the need for liquefying them. For these tasks, you don't need anything fancy. You could get away with a blender for less than $50 – given you don't plan on using it twice daily.
The Line Up
Vitamix
S30
Up to 40 oz
Variable Speed + Pulse
790 watt
1x Cup + Pitcher
1x Blade
Recipe Book
Dishwasher Safe
5 Year Warranty
Check Price at Amazon
NutriBullet
professional
Up to 32 oz
1 Speed + No Pulse
900 watts
2x Cups
1x Blade
Recipe Book
Dishwasher Safe
1 Year Warranty
Check Price at Amazon
Ninja
Master Prep
Up to 48 oz
Single Speed + Pulse
450 watt
3x Bowls
2x Blade Sets
User Guide Only
Dishwasher Safe
1 Year Warranty
Check Price at Amazon
Given our criteria above – I've selected the three best blenders that offer exceptional value for money. All three have a proven track record of providing consistent results over a year or more of use.
They have a great track record according to customers who have purchased and left a review through Amazon's platform. I can vouch personally for two of them as I own them (the Vitamix S30 and the Nutribullet Pro 900).
The Vitamix S30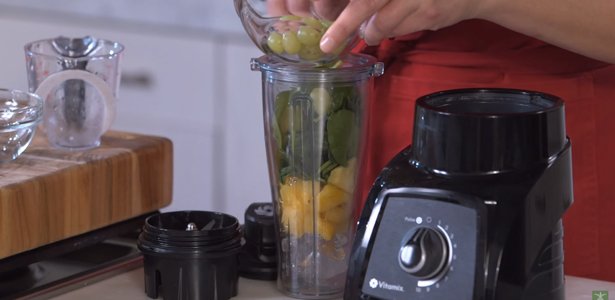 While there are a lot of blenders that can fill this spot, I've gone with the Vitamix S30. The Vitamix S30 is an awesome all-in-one machine. It has a home in my kitchen and is capable of creamy soups, amazing salsas, green smoothies, and much much more.
The Vitamix's blade housing attaches directly to the provided pitcher and two double insulated cups. The pitcher takes care of your kitchen needs while the double insulated cups allow for your smoothies to keep their temperature. The quality flip-top lids will ensure nothing leaks.
If you look carefully the next time you are in a juice bar such as Boost, you'll see the not-so-obvious reason behind their success. Those 4 protruding black pillars and metal drive sockets belong to the Vitamix. Sure it's a commercial-grade blender, tho they share the same performance.
The blender is manufactured in the US with the majority of the parts sourced locally. The blade housing has an all-metal construction that fits snug into the metal drive socket. Vitamix has always had a reputation for quality and it's reflected in their 7-year warranty.
I almost forgot to mention – it comes with 169 recipes. Everything you could need from Dressings to Deserts!
The Nutribullet Pro 900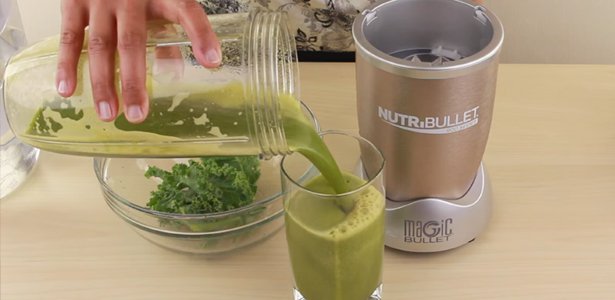 I highly advise this compact blender to everyone wanting to get into smoothies! You don't have to stop there as it's capable of iced coffees and desserts to name a few. It also carries a reasonable price tag.
The machine comes with a powerful 900-watt base, two blades, four cups, lids, and a good assortment of recipes. The plastics parts are durable, although nowhere near the same as the Vitamix. Should you ever run into issues, replacement parts are available at a good price.
Making smoothies is as simple as adding your preferred ingredients to the cup such as Kale, Ginger, and Carrots. Pour in some water being careful not to exceed the overfill line. Screw on the blade housing and place the cup on the base of the blender – matching up the plastic tabs.
Press down firmly to begin blending. Should ingredients become stuck, simply remove the cup and give it a gentle shake. Blend for up to 30 seconds and you are done! Clean up is a breeze, add the cup to the top section of your dishwasher or blend some cold water with a touch of detergent.
Ninja Master Prep Professional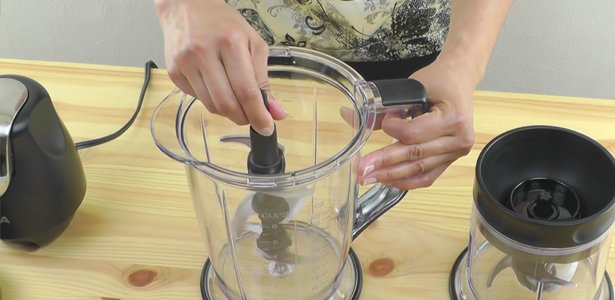 The Ninja Master Prep makes for the perfect kitchen blender. The blender comes with a 48oz pitcher and a 16oz prep bowl. Both the pitcher and prep bowl have non-slip bottoms. Assembling and disassembling the machine is made easy due in part to no locking mechanisms.
To use the machine, you begin by placing the extractor blades into the center of the bowl. Add your ingredients to the bowl. Attach the lid to the top of the pitcher/prep bowl and insert the pod-shaped blender base.
To blend, press down on the large silver button, located on the top of the pod. While the blender has no pulse feature, pressing the button repeatedly archives the same result. Blend your ingredients of a short 30 – 60 seconds and your done!
To Conclude
There are a lot of brands out there that cater to all budgets. As you've seen, finding the best blender for the money comes down to what you plan on using it for. Blending enthuses who want it all – hot soup, green smoothies, and salsas will do well with a Vitamix S30 (what I use at home).
Next, green smoothie lovers will fall in love with the Nutribullet pro 900. You can virtually add whatever you want to the mix provided you add enough liquid. The Nutribullet Pro 900 was my first blender and I've never had regrets.
The Ninja Master Prep Professional is an absolute bargain – given its price to performance ratio. Salsas look stunning, basic soothes look great, and even hot soups are achievable – provided the ingredients are softened up first.
FEATURED PRODUCTS
Vitamix S30

Up to 40 oz
790 watt
1x Cup + Pitcher

Check Price
NutriBullet Pro

Up to 18 oz
200 watts
3x Cups

Check Price
Ninja Master Prep

Up to 48 oz
450 watt
2x Blade Sets

Check Price