Bullet blenders created a revolution in home nutrition. Homeland Housewares started the revolution with the Magic Bullet back in the early 00s, sliding smoothly into homes through the power of infomercials.
Parents fell in love with being able to quickly and easily create pureed baby food with these easy-to-clean devices. While health-conscious on-the-go folks loved being able to create a full-fiber breakfast drink in seconds and be out the door.
When the Nutri Ninja came on the market things started to really head up in the world of personal blenders. So, when you're looking at Magic Bullet vs Ninja, which is going to come out on top?
Magic Bullet vs Ninja Differences
The biggest difference between The Magic Bullet and the Ninja blender is the blender's motor. The Magic Bullet has 200 watts of power and the Ninja Pro has 900 watts of power. The Ninja's powerful motor produces far superior results to The Magic Bullet. Each blender comes with different accessories.
While both brands make personal blenders, Magic Bullet had dominated the market for quite some time. When the Ninja blender launched things really started to heat up, which is great for the consumer.
Except now it can be hard to work out which is going to be best, so let's have a look at the differences between three of the popular bullet blenders.
Nutri Ninja
professional
Up to 24 oz
1 Speed + No Pulse
900 watt
3x Cups
1x Blade
Recipe Book
Dishwasher Safe
1 Year Warranty
Check Price at Amazon
ON SALE!
Ninja
fitness
Up to 16 oz
1 Speed + Pulse
700 watt
2x Cups
1x Blade
Recipe Book
Dishwasher Safe
1 Year Warranty
Check Price at Amazon
ON SALE!
Magic Bullet
original
Up to 18 oz
1 Speed + No Pulse
200 watts
3x Cups
2x Blades
Recipe Book
Dishwasher Safe
1 Year Warranty
Check Price at Amazon
Magic Bullet
The original bullet blender is still going strong. Both in terms of popularity and its ability to mix, blend, whip, and grind. It is easy to operate, just push down, twist, and it's locked.
It is the cheapest of the three that we are looking at, which is great. However, it is only 200 watts, which doesn't necessarily give it enough power to keep up with its more powerful competitors.
Yet, it remains popular because it continues to do what it is supposed to, do it well, and do it cheaply. It is not the cheapest on the market, but if you are looking for bang-for-buck this could be for you.
As an extra bonus, it has a respectable 18 oz drinking cup, with a handle!
Perfect for pureeing baby food, making dips and spreads like hummus, or making great omelets and pancakes.
Ninja Fit
There is quite a difference when you're comparing the Ninja vs Magic Bullet. For starters, the Ninja Fit is a bit of a jump in price.
However, for that price increase, you get a significantly more powerful motor, as the Nutri Ninja motor is 700 watts. This is enough power to pulverize ice into your smoothie or to turn a frozen banana into vegan "nice cream".
The downside is that the largest cup is only 16 oz. But the whole unit is small, making it great for small kitchens, or to hide in your desk drawer at work – making lunch or a boost pick-me-up is super easy.
This Nutri Ninja is also easy to clean, which, along with the smaller size, makes it great to travel with.
Nutri Ninja Pro
The Nutri Ninja Pro is, as you'd expect by the name, the gruntiest of our three bullet blenders. It has a really powerful 900-watt motor, and the largest of its three cups holds a great 24 ounces of whatever you're making.
Of course, this Nutri Ninja is also the most expensive of the three – but the power and flexibility may be enough to make you want to overlook that. It's also cheaper than looking at the more traditional kitchen blender, and a fraction of the size.
It is also the largest of the three, as you'd expect with a more powerful motor you also need a more solid base unit. Making this a good heavy-duty machine if you have more destructive housemates. The base unit also has a bit more stainless steel than the other models which are primarily heavy plastic housing.
Which Blender is Best Suited For You?
Although there are a lot of similarities between any of the personal blenders, there are enough differences that when you are wanting to make the investment, you should have a look at the customer feedback.
Different capacities, noise levels, functionality, accessories, and power will all have a bearing on how suitable any blender will be for you. The price is also a factor.
Magic Bullet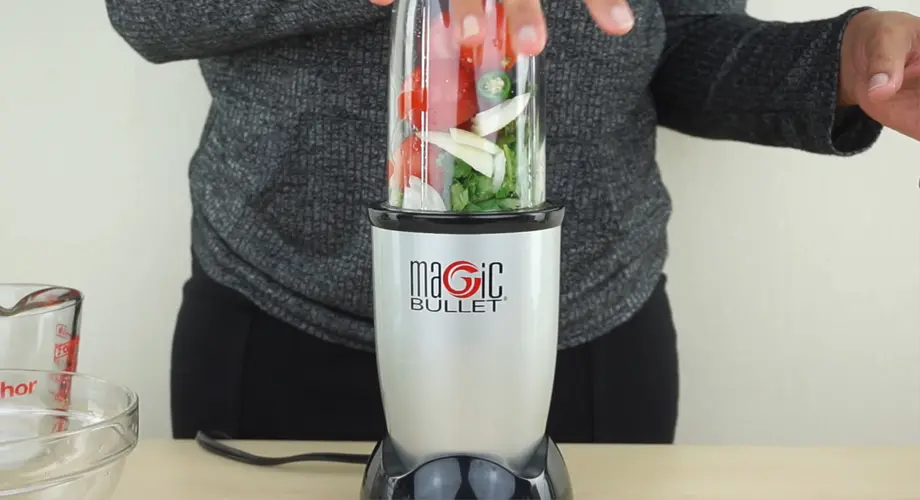 There have been some complaints that the Magic Bullet doesn't have enough power to make a great smoothie, particularly if you are using frozen fruit or ice. However, this seems to be a bone of contention amongst owners, so we'll talk about this more in a moment.
With its small motor, lightweight construction but a surprisingly large capacity cup, this is a great option for home entertainers and anyone with a love of the weekend brunch.
The capacity and blade design make it perfect to create instant entertainment snacks from hummus to onion dip – the recipe book that ships with the Magic Bullet have a ton of recipes that you'll enjoy (and a few more mundane ones).
Will it make a cool smoothie? Yes, but you will likely need to be careful about your ice or frozen fruit to liquid ratio.
Basic green smoothies
Salsa and baby food
Milling blade
Most accessories
Cheapest blender
Very weak motor
Plastic tabs on cups
Only holds up to 18oz
No nuts or ice
No stringy vegetables
Nutri Ninja Fit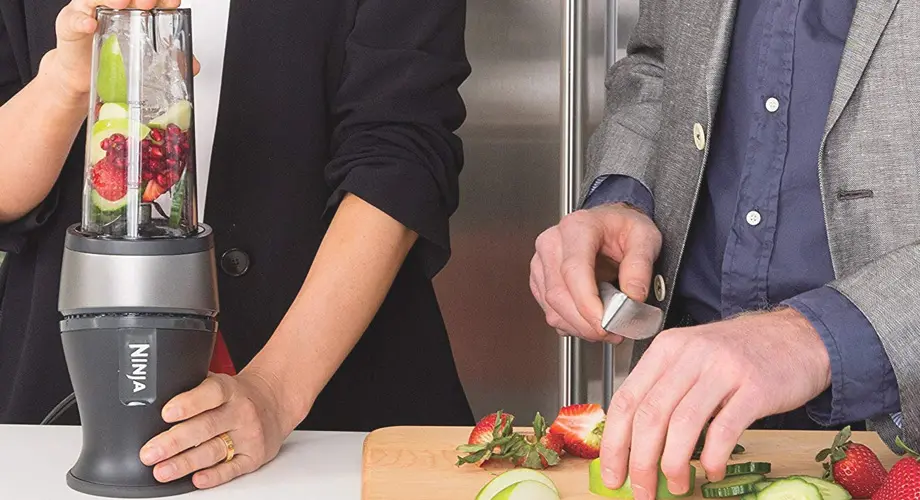 In the battle of Nutri Ninja vs Magic Bullet, this Nutri Ninja Fit is currently the winner. It is quite simply running straight down the middle road; it has become the perfect option for people who aren't really sure about what they need from their bullet blenders.
The 700-watt motor is powerful enough to blend up frozen fruit in smaller batches, while the price tag is nicely placed between the Magic Bullet and the Nutri Ninja Pro (at the time of this article).
These are not designed to blend hot liquids, so while a warm soup might be ok, a bulletproof coffee might cause some serious kitchen damage.
However, if you're wanting to make a blended Frappuccino, this could be the perfect machine. Just the right amount of ice, cool coffee, and the Nutri Ninja's come with a sip and go style lid – so summer Iced Mocha to go could be your new favorite way to start your day.
Mid-range motor
Better quality blades
Better quality cups
Ice & Frozen Berries
Dishwasher safe parts
Very noisy
No hot liquid
Plastic gears
Plastic drive socket
Limited 1-year warranty
Nutri Ninja Pro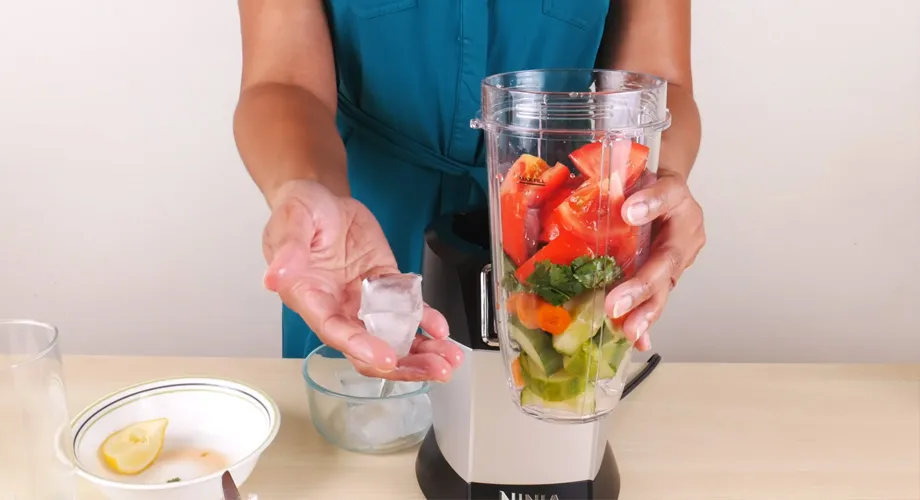 As expected, this blender is all power. It has a 900-watt motor that will pulverize anything. This is the one you want if are big on making frozen drinks.
The blender also comes with a 24 oz capacity cup, meaning that you can make your frozen margaritas for two – although, the average serving of wine about 5 oz, so maybe a few more too.
The power is obviously the big selling point with this machine. There isn't much that your Nutri Ninja can't tackle. From making nut milk from raw nuts to fresh veggie smoothies, the motor size means that you aren't left with lumpy bits.
If you want a chunky dip, this might be a problem. It generally takes under 5 seconds to blend everything to a smooth consistency.
Powerful motor
Nuts & Seeds
Stringy vegetables
Ice & Frozen Berries
Easy to clean
Most expensive
Plastic gears
Plastic drive socket
Blender is very loud
Limited 1-year warranty
Who Wins With The Best Accessories?
Nutri Ninja
professional
1x Power Base
1x Extractor Blade
1x 12oz Cup
1x 18oz Cup
1x 24oz Cup
No Lip Ring
No Handle
2x Sealable Lid
1x Manual
1x Recipe Book
Check Price at Amazon
ON SALE!
Ninja
fitness
1x Power Base
1x Extractor Blade
1x 16oz Cup
1x 16oz Cup
No Lip Ring
No Handle
1x Sealable Lid
1x Sealable Lid
1x Manual
1x Recipe Book
Check Price at Amazon
ON SALE!
Magic Bullet
original
1x Power Base
1x Extractor Blade
1x 18oz Cup
1x 18oz Cup
1x 12oz Cup
1x Flip-Top Lid
2x Lip Rings
2x Sealable Lids
1x Manual
1x Recipes Book
Check Price at Amazon
Magic Bullet
The standard Magic Bullet comes as an 11-piece set. Obviously, this will include the power base, but it also includes extra's like a recipe book.
As standard, you will get one tall and one short cup, plus a party mug. These come with 2 resealable lids, 2 lip rings, and a sippy lid – all of which can be used on any of the cups.
The lip rings are quite unique to the Magic Bullet. Because of the way these blenders are designed, the grooves to attach the blade housing are on the outside of the container.
Having a lip ring that screws onto the outside of the cup just makes for a nicer experience if you are drinking straight from the Magic Bullet cups.
The sippy lid is a new addition to later models of the Magic Bullet range, so double-check that the one you are ordering has these included. If not, don't stress too much, as Magic Bullet has an excellent range of genuine accessories you can buy aftermarket.
Nutri Ninja Fit
This Ninja Fit 700 model has a powerful base unit and comes with stainless-steel blades.
It also comes with a recipe "inspiration" guide that includes 30 different recipes. Although there is the expected variety of smoothie recipes. You can also discover how to use your Ninja Fit 700 to make Black Bean Brownies, Gluten-free pancakes, cheesecakes, and jams.
One advantage that the Nutri Ninja range has over the Magic Bullet is the online presence. The Ninja's website has lots of advice and recipes, as well as a very informative blog that covers healthy lifestyle topics.
The Nutri Ninja Fit only comes with two cups – both 16 oz. However, it does include 2 sip and seal lids, so you can have both cups in use at the same time.
Nutri Ninja Pro
As you'd expect, this model comes with the most bells and whistles.
As standard, it comes with the 900 to the 1000-watt motor (with 21,000 RPM), housed in a base unit with non-slip feet. It also includes the pro extractor blades, an instruction book, and a 1-year warranty which also covers part malfunction.
The pro extractor blades are designed to pulverize seeds, ensuring that you can get a greater amount of nutrition from the whole food. Because of this, please don't add things like whole apples where the seeds are not suitable for human consumption.
With this model, you get three cups: a 12-ounce 18-ounce cup and a 24-ounce cup. Unfortunately, you only get 2 sip and seal lids, so investing in more lids or another 12 oz cup might be a good idea for many households.
The other downside is that there is no handled option.
Concerns
The online world has made it easier to buy almost anything we want. Better yet, it has given us access to read and write on a range of consumer goods – including personal blenders. So, what should we be looking out for with our three bullet blenders?
Magic Bullet
This is often the personal blender that people upgrade to. While it is certainly going to be significantly better than most cheap Walmart options, you have to remember, it is what it is.
This is a 200-watt blender. It simply does not have the power to smash large ice cubes, nor will it be able to handle whole frozen strawberries or large chunks of raw carrot.
The majority of complaints related to the Magic Bullet being unable to handle what they have thrown at it – and this is the reason why. It's a great machine if you want to make liquid drinks, but if you are wanting anything thicker you will likely run into problems.
Unfortunately, overloading the machine will cause it to work harder, and wear out faster. This is probably the number one reason why people end up disappointed with how long they last.
If you are using them to add a few frozen blueberries to a protein powder shake you will likely love it for years, as they are really easy to clean up. If you are wanting to make thick frozen smoothies, particularly with anything that has hard seeds like blackberries or raspberries, you are going to be bitterly disappointed I'm afraid.
A few people have had leaking issues with these. But, as long as you have been following the instructions, these will usually be covered under the 1-year warranty. There are a lot of Magic Bullets out in the world, so it's not surprising that a few will experience a faulty part. As long as you get onto the company as soon as you notice then you won't have too many problems.
Ninja Fit
As you might expect from the middle-of-the-road blender – most also mark this as having a middle-of-the-road performance.
While certainly more powerful than the Magic Bullet, the Nutri Ninja Fit is able to crush ice to make cold drinks but is less capable of decimating raspberry seeds or oats.
If you don't mind a little grit in your smoothie this may not be a problem – and is a pretty common issue amongst blenders. However, if you are specifically wanting to buy this so that you can have a seed-free raspberry smoothie you will be disappointed.
As the base is very difficult to clean, if you do have leaks this becomes a nightmare. Does it leak? Unfortunately, if you have anything warm then you are going to get pressure build-up, and yes, it will 100% leak.
If you have an exceptional freezer you may want to leave your frozen fruit out on the bench for 5 minutes to warm a little. While the 700-watt motor is powerful, it's not quite enough to deal with rock-hard berries.
Most people do find the cups large enough for their purposes, but if you haven't had a personal blender before maybe try adding ingredients into a measuring jug to see if the 16-ounce cup is going to be large enough for you.
The Nutri Ninja Fit is dishwasher safe if you put it on the top shelf. However, many people have suggested it is just easier to use a small bottle brush, particularly to clean the blade housing. While this will depend on what you're making, if you have ingredients that are pretty sticky you might want to take this advice on board.
Nutri Ninja Pro
With the powerful 900-watt engine it is hardly surprising that one of the biggest complaints is about the noise. This is often a problem with the bullet blenders, or indeed with many blade-based kitchen devices.
However, it is hard to tell whether in this case if it is an issue of inadequate sound insulation around the power base or if the cups are causing an echo when blending hard objects like ice.
It is hit and miss as to whether you will get fully ground berry seeds from this Nutri Ninja. Although the machine is advertised as being able to create a completely smooth raspberry smoothie, it will depend on what other ingredients you have in your cup.
The rubber gasket in the blade housing wears out fast, so if you can order a spare when you make your purchase you may find life more pleasant. You'll likely want to pop the gasket out after making a few smoothies and give the blade unit a really good clean, as it seems that food gunk gets stuck underneath the gasket.
If you have limited strength or dexterity in your hands you may struggle with the 900-watt Pro. It is a bit bigger and can require a bit of pressure to attach the blade housing to the cup. It can also be difficult to get the cup properly into the base unit, then to push it down and hold it for long enough to get your smoothie smooth.
As there seem to be a few that have simply stopped after a few months of use, be certain of the warranty and how it applies to where you purchase it from. If you are buying through a reseller rather than a company-approved distributor, you may have a different warranty.
Which Is Better?
As you can see, all three are ok for the average user. While the Ninja Fit is good as a middle-of-the-road, it probably doesn't have enough power for heavy smoothie drinkers but will be great for the occasional frozen drink.
The larger capacity of the Ninja Pro is great for protein shake drinks, but if your dishwasher isn't up to scratch then you may find cleaning this to be particularly irritating.
While the smallest Magic Bullet doesn't have the power to really deal with frozen or hard raw veggies, cutting these up is a good workaround.
So, which is best is going to depend on you and what you need – but one of these three should fit most people.
FEATURED PRODUCTS
Nutri Ninja Pro

Up to 24 oz
900 watt
1 Speed + No Pulse

Check Price
ON SALE!

Ninja Fit

Up to 16 oz
2x Cups
700-watt

Check Price
ON SALE!

Magic Bullet

1x 18oz Cup
1x Flip-Top Lid
2x Lip Rings

Check Price