If you've ever cooked up a soup then popped it into a blender to make it smooth, you may have experienced the scary moment your lid blows off with the steam pressure build-up.
If you're lucky, you escaped with just a major clean-up. If you're not so lucky, you may have received serious burns and potential injury from exploding plastic or glass.
Getting the right blender for your needs is about more than just power. You need to make sure that it is capable of doing the things you need it to do safely.
This means something able to handle hot soup, a blender that will cope with raspberry seeds, something with blades that will crush ice, and a machine able to make the best nut butter.
In the world of high cuisine, this means comparing Vitamix vs. ninja blenders. Which is best for you?
Assessing The Vitamix vs. Ninja Blender Differences
The biggest difference between the Vitamix Explorian and the Ninja Professional is the build quality. The Ninja Blender has a plastic build with 1,100 watts of power-producing average results. The Vitamix Explorian has a metal build with 1,380 watts of power-producing restaurant-grade results.
You're looking at two powerful machines, with the Vitamix powering through to crush ice using its 1380 watt motor while the Ninja Blender pulverizers nuts into a smooth butter. But otherwise, you have two quite different blenders. So, let's have a look at the different features.
Ninja
Professional
Up to 72 oz
3 Speed + Pulse
1,100 watts
1x Pitcher
2x Blades
User Guide
Dishwasher Safe
1 Year Warranty
Check Price at Amazon
ON SALE!
Vitamix
Explorian
Up to 48 oz
10 Speed + Pulse
1,380 watts
1x Pitcher
1x Blade
Recipe Book
Handwash Only
5 Year Warranty
Check Price at Amazon
The first thing that stands out is that the Vitamix blender has blunt blades, while the Ninja mega has sharp blades. Vitamix says that this is the reason why their machine is able to use friction to create a hot soup from lukewarm ingredients.
Of course, Ninja says that their sharp blades are how nutrients are fully extracted from the food you blend.
Size-wise in the Vitamix vs. Ninja debate, the Ninja blender wins hands down, with its 72-ounce mixing pitcher compared to the Vitamix blender with its 48-ounce mixing pitcher.
However, the Vitamix has far more flexibility in speed control, with 10-speed settings plus pulse, whereas the Ninja Professional limits users to just three speeds and a pulse. Does this really matter? It will depend on what you want to blend.
The super fast blending that the Vitamix is capable of allows it to create enough heat to actually heat food. This obviously isn't something you really want if you are making ice cream or frozen smoothies – which is why having the low-speed settings and pulse control is a bonus.
But then you look at the Ninja blender, and it's the ability to crush ice and turn it into fluffy snow in just seconds… and you'll realize you need to decide if you're a hot or cold person.
While both will blend hot soup, crush ice, and create your normal blended drinks and meals, it certainly seems that the Vitamix is better at warm food while the Ninja Blender excels at cold food.
If you're making smoothies or nut butter regularly, clean-up is one of the most important aspects of any blender. Comparing the clean-up of the Vitamix vs. Ninja, the Ninja is dishwasher safe, so just pop the unit into the top shelf of your dishwasher and walk away.
On the other side, Vitamix is handwash only. However, before you use that to completely right it off your shopping list, they also call the machine 'self-cleaning'.
Using a couple of drops of dishwashing detergent, a bit of warm water, and 30 seconds on full blast is enough to clean it. Add a bit of vinegar if it needs to be sterilized.
Ninja And Vitamix Blender Concerns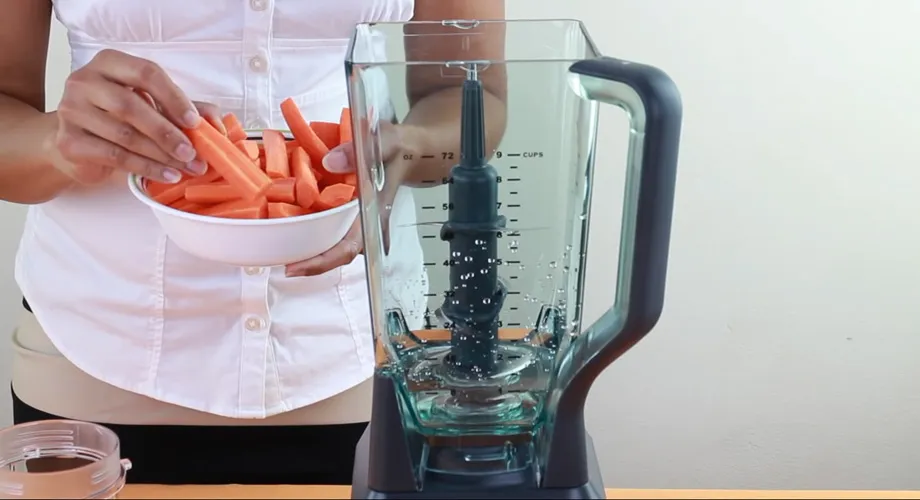 No product can be 100% perfect all the time, but when it comes to the various complaints and concerns between the blenders, some things you may be able to live with, others not so much.
Ninja Professional
One of the biggest complaints about this blender is the noise level. While a certain loudness should be expected because of the motor size and will certainly change depending on what you are blending, for many, it is just really loud.
If you are making anything that is almost purely liquid, the very powerful motor can create such a strong vortex that the liquid gets pushed against the spout in the lid and causes leaks.
In fact, leaking is probably the biggest complaint with this mixer – both the pitcher jug and the bullet cups. With the cups, the issue is more with an apparent gasket failure which can cause leaking into the housing.
While this isn't a universal issue, for the small percentage of people that encounter this, it is obviously very frustrating. To make matters worse, often it appears to happen outside of warranty conditions, so if your one leaks, get hold of the company immediately.
Another downer is the apparent lack of love for Spinach or Kale. Again, this is something that is not going to affect everyone, but for those that are buying this machine specifically for green smoothies, you would be wise to look at the workarounds. The texture of the leaves can make it difficult for the blender to blend them smoothly, so you may need to chop them up a bit before you add them to your mix.
Our tests show that when creating smoothies, food items can get caught up in the higher blades when creating large batches. If making smoothies is your primary goal, you might want to consider a dedicated smoothie creator. See our Ninja vs. NutriBullet comparison for more info.
Larger capacity
Less bulky
More accessories
Dishwasher safe
Inexpensive
Plastic drive socket
Spout cover leaks
Loud to operate
Sharp blades
1 Year Warranty
Vitamix Explorian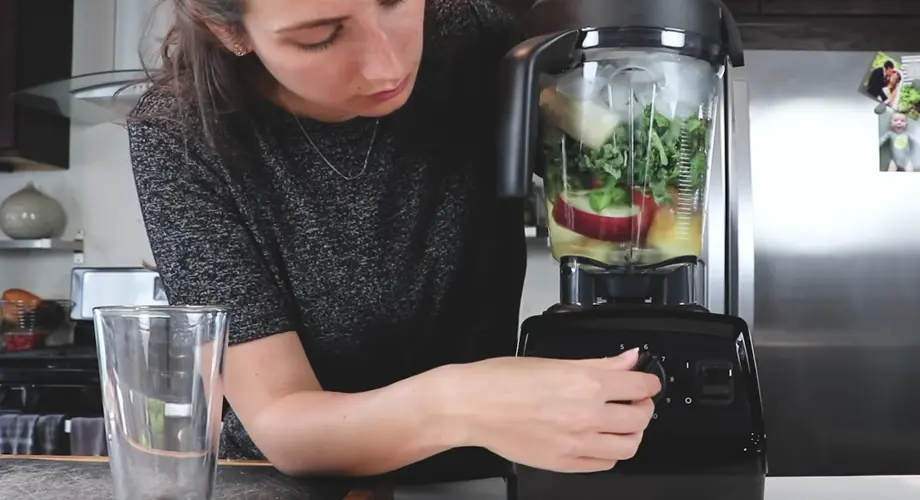 One of the bugbears with this machine is that you really need to hold on to it when you're blending certain ingredients. Although it has a pretty solid base with good rubber feet, the mixing pitcher itself can get a little shaky.
However, while some of the complaints focus on the shaking issue when using the blender past level 5, Vitamix suggests that if the blender is shaking, it may be an issue with the drive socket, and you should contact customer support.
While the addition of the tamper means that scraping anything stuck to the sides is a breeze, certain foods can be left unblended under the blades, which you can't easily access (and certainly not while the machine is on!).
A related issue is the number of air bubbles that form when blending thicker liquids such as thick smoothies or cold soups. These air bubbles mean that things don't blend properly, and you will need to bring out your tamper.
Because of a 2002 research paper published in Food Additives & Contaminants that showed toxins from plastic fast food containers might be released into food when the plastic is heated, there are some people concerned about the use of PBA-free plastic rather than glass.
Durable construction
Consistent results
Dull blades
Half as loud
5 Year Warranty
Handwash Only
More expensive
Vitamix And Ninja Blender Accessories
It's hard to compare the Ninja and Vitamix when you're looking at the accessories, as it's not really comparing apples with apples.
Ninja
Professional
1x Power Base
2x Blades
1x 72oz Jug
2x 16oz Cups
x2 Sealable Lids
User Guide Only
Sharp Blades
Made in China
Check Price at Amazon
ON SALE!
Vitamix
Explorian
1x Power Base
1x Blade
1x 48oz Jug
No Cups
No Sealable Lids
Recipe + Guide Book

Dull Blades
Made in USA
Check Price at Amazon
Vitamix Explorian
ON SALE!
The Vitamix Explorian is a blender first and foremost – it is designed to sit on your kitchen bench and work within your kitchen environment.
As such, it comes with a very sturdy 48-ounce pitcher, a recipe book, and not a lot else as standard. However, part of the design that makes it great are things like the two-part lid, which allows you to use the specially designed tamper to push food down to the blades safely while the blades are operating.
The two-part lid also allows you to release the steam when you are making hot soup or blending coffees to prevent explosions from the steam causing a pressure build-up.
The tamper comes standard with this model of Vitamix blenders, but you may need to double-check for other models – and these are specifically designed for the particular container, so don't mix and match, or you may lose it to your blades.
There is also a handy tamper storage unit that you can position on either side of your blender, meaning you have more versatility about where you can store your Vitamix.
While there are few actual accessories that come standard, there are a range of aftermarket options you can look into – with the blade removing wrench tool being one of the recommended options if you want to ensure you remove every last scrap of nut butter.
As an added benefit, this Vitamix comes with a five-year warranty – which is a pretty nice security level.
Ninja Professional
The Ninja is loaded with accessories. Although while it also includes a user guide, there is no recipe guide. However, in the age of the internet, this isn't such a drawback, as there are almost limitless recipes for the Ninja online. It does come with an 'inspiration guide', though.
What is particularly awesome in the way of accessories are the two 16oz cups which, because they come with an included separate blade mechanism, turn your Nutri Ninja Pro into a bullet.
These two cups also come with sip and go lids. So, you have the option of making a personal drink in just one or making drinks for two in the large pitcher and then pouring them into the separate cups as you race out the door.
The standard 72oz jug is also a pretty big selling point for many people, particularly if you are making drinks for a crowd (or a busy family).
It only comes with a 1-year warranty, which is normally great, but when you're comparing it to the five years that Vitamix gives, it seems a little lacking.
There is also a range of aftermarket accessories, which include additional cups in a variety of sizes and matching lids. The trick is to make sure that you are getting the right ones for your model, as they are not "mix and match" across the brand.
Hot Soup Performance
Vitamix Explorian
As I mentioned, the Vitamix blender really does excellent soup. While it is not recommended to use hot ingredients in blenders as a general rule, the Vitamix is a bit unique.
You still shouldn't use boiling liquid, but because of the way the Vitamix Blender operates, using freshly steamed veggies and warm liquid will be perfect. Yes, this machine will heat up your ingredients and give you toasty-warm soup.
Unlike the various instant hot soup makers on the market, this doesn't have a heater of any sort. It actually friction as the heat source. What happens is you put your ingredients (raw or cooked) into the blender, then crank the dial all the way to 10.
Because the blades in the Vitamix are not sharp, but they are very strong and go very fast, the action of them spinning through the ingredients creates such a force that the act of blade going through carrot heats it up.
One caveat – this is not true cooking, so do not use this method to 'cook' food that needs proper heating. As long as the food can be eaten raw naturally, then the Vitamix is perfect. But for raw chicken or raw potatoes, you'll need to at least steam them thoroughly first.
Ninja Professional
So, in the ninja vs. Vitamix comparison, how does the Ninja Mega stand up in the world of soup? Well, not as good. It lacks any form of venting, meaning that you are more likely to get intense pressure build-up.
If you have a look on Google, you will find a lot of ideas on how to blend the hot soup in a blender without exploding, but obviously, the fact that you have to look in the first place isn't good.
If you're looking to make great soup using the Ninja Professional Blender, then you will need to let the ingredients cool down first, blend, and then heat the soup up again if you want to do so safely.
Of course, another way to create amazing soup using this machine is to put all the ingredients in and pulverize them before you start cooking. The Ninja certainly has enough power to completely pulverize your raw carrots.
Cooking your food first can create a different flavor than you get if you cook it after blending. This isn't necessarily a bad thing. You will just need to judge for yourself which you prefer.
Obviously, when you cook onions first, for example, you will have a caramelized onion flavor in your soup, which you won't get by blending the raw onion and then boiling it with the other veggies.
Spreads & Nut Butter Performance
So comparing the Ninja blender vs. Vitamix on their ability to make the best nut butter – who will come out best in this round?
Vitamix Explorian
Those blunt blades seem to be able to play a really major part in Vitamix's ability to make great nut butter. However, the jury is out on its ability to ground dry nuts if you are after something like almond flour.
The customer care team is really helpful here and does offer tips and suggestions, but also points out that this machine is not a grinder, so the resulting texture for grinding nuts (or coffee beans) may not be quite the same.
Nut butter is generally made with something like a soaked cashew nut or a peanut with a little oil added. Basically, to make a good nut butter, you need to have a little liquid, whether that's an oil or another substance.
However, it seems to be universal that people who make butter in their Vitamix are super happy customers.
There is no mention of how well it does if you like extra crunchy peanut butter but go with the same method you would for a chunky soup. Lightly chop a portion to the desired crunch, then add that to the butter last.
Nut butter has got to be one of the toughest tests for its ability to 'self-clean, and that seems to be a resounding success. However, if you're making butter from expensive ingredients, you may spend some time scraping the extra butter out from under the blades.
Ninja Professional
There are a few mixed reviews on the ability of the Ninja to make a great nut butter – and strangely, much of the derision seems to come more from a debate over crunchy versus smooth butter nutters.
If you like a nice crunchy butter, then the Ninja makes the world's best nut butter with no other ingredients necessary. 30 seconds on full, and you have perfect crunchy nut butter ready to eat – whether you need a spoon to 'sample', it first is up to you.
However, for those that have read the reviews discussing the pros of the Ninja Blender vs. Vitamix and only like their butter silky smooth, there may be some confusion.
To get the silky-smooth texture for most nut butter, using any machine, you are going to need to use your pulse function a bit more and likely add a little more liquid.
Pulsing not only stops the nuts from getting stuck in one corner but helps move them around more so that they are more likely to come into contact with the blades.
Of course, the more times a nut comes into contact with those sharp stainless-steel blades, the more times they are going to be cut up into teeny tiny pieces.
Ninja vs. Vitamix Smoothie Performance
Vitamix Explorian
OK, so the Vitamix Explorian is really powerful, and its variable-speed motor spins the blades fast enough to actually heat food – but this is not really a desirable thing when you're making a smoothie.
Thankfully, that same variable speed also means that it can blend at a slow speed or that you can use the pulse function to keep your frozen raspberries frozen but still have the seeds pulverized into a smooth paste.
Looking at the smoothie-making abilities between the Vitamix and Ninja doesn't come down to the blenders' ability to make a smooth paste. The biggest difference between the two really comes down to ice crushing.
If you're looking at the straight ability for a blender to turn ice into fluffy snow, then the sharp blades of the Ninja win hands down. However, once you add a little liquid to the mix, the Vitamix does manage to hold its own in this battle.
The Vitamix does a pretty good smoothie, but you do need to use the pulse function or follow the recipes that they have available. Make sure that you put the ingredients into the blender in the right order as well, as this helps make sure that everything is well blended without heating.
Ninja Professional
If you want a summer slushy, then the Ninja is your go-to machine. Being able to blend ice or frozen fruit without any added liquid gives it a definite advantage in the Ninja vs. Vitamix smoothie wars.
Those sharp blades and powerful motors help to cut through most fruit and veggies, but as with all blenders, there are a few things that cause more problems than others.
If you're adding raspberries, blackberries, chia seeds, or flax seeds, you may encounter problems in getting these to mix in smoothly. This is a common complaint with other blenders, and while the Ninja has the ability to chop through these, you need to have other ingredients in the right order.
If you add too much liquid too early, then you will find that your seeds float around and cleverly avoid the blade cutting action. You may also need to stop blending to scrape them down from the sides of the pitcher.
There is a similar issue with adding power; if you add it at the wrong time, you may end up with it spraying up near the lid resulting in you having to scrape down the sides.
It's a minor inconvenience, but to be able to effectively use one of the best smoothie makers on the current market, read the manual for the best ingredient order.
Final Thoughts
While both blenders are great at what they do, which one will work best will definitely come down to if you are going to be creating hot or cold drinks and if noise is an issue for you.
While the Vitamix makes a fantastic soup and a respectable smoothie, it seems that its ability with seeds turns them into fine grains rather than making them completely blend.
The Ninja, on the other hand, shouldn't really be used with very hot liquids and doesn't have the ability to actually heat food through pure friction force, but it does make great fluffy ice.
Above all, if you have an issue with either brand, don't assume that this is just the way the machine is. Call customer support! A lot of the issues that get mentioned in reviews are dealt with in the manuals and just need a little assistance to resolve.
FEATURED PRODUCTS
Ninja Professional

2x Blades
1x 72oz Jug
2x 16oz Cups

Check Price
ON SALE!

Vitamix Explorian

1x Blade
1x 48oz Jug
No Cups

Check Price