When it comes to a healthy lifestyle, fads come and go. Yet, remaining steadily on the list of good life choices is the humble smoothie. In fact, the first health smoothie may well be the Orange Julius, invented in the 1920s.
Yet, from then to now, we have seen an incredible explosion in the health-drink options. None more so than when Nutribullet and SharkNinja developed personal nutrient-extraction blenders. These blenders revolutionized how we could make drinks at home.
It's not only smoothies. We discovered we could blend nuts for fresh almond milk, make banana nice cream, and even soups—all in a matter of seconds, with the internet providing a wealth of amazing recipes to try. What's better, they're easy to clean. Yet, the debate still rages on – which one is better.
Nutri Ninja Pro vs. NutriBullet Pro
ON SALE!
Nutri Ninja
professional
Up to 24 oz
1 Speed + No Pulse
900 watt
3x Cups
1x Blade
Recipe Book
Dishwasher Safe
1 Year Warranty
Check Price at Amazon
NutriBullet
professional
Up to 32 oz
1 Speed + No Pulse
900 watts
2x Cups
1x Blade
Recipe Book
Dishwasher Safe
1 Year Warranty
Check Price at Amazon
The biggest difference between the NutriBullet and the Nutri Ninja is the motor power and blade housing. The Original NutriBullet has 600 watts of power, and the Ninja Pro has 900 watts of power. The NutriBullet has 6 dull blades, and the Nutri Ninja has 4 sharp blades. The above table shows all the differences.
Let's start with the top-end bullet blenders for the home user: Nutri Ninja Pro and NutriBullet Pro. With 900 watts of power, both are suitable for an adventurous creator! Both models are ideal for crushing ice, pulverizing nuts, or turning even raspberry seeds into a paste.
Both the Nutri Ninja Pro and Nutribullet Pro are dishwasher safe (on the top shelf), and each has a 1-year warranty.
Unlike traditional kitchen blenders, bullets generally only have one speed. This is also part of the reason why they are amazingly fast to blend food to a beautifully smooth consistency.
So, if the Nutra Ninja Pro and the NutriBullet Pro are so much alike, how do we pick which pro 900 blenders to buy?
Although geared towards different customers, there are two main differences between the Nutri Ninja Pro and NutriBullet Pro. These aren't so much in the features but in size and perceived build quality.
Size – How Much Smoothie Can You Make?
The Ninja Pro has a capacity of up to 24 oz, while the NutriBullet Pro only has a capacity of up to 32 oz. For most people, this isn't actually much of a deal-breaker, as your standard breakfast creation is between 8 and 16 oz for a single-serve.
In fact, if you are looking at using your blender to create meal replacements, you will need to be aware of how much food you are consuming. While blending fruit, vegetables and nuts make a nutritious meal; few people will eat two whole bananas, a handful of almonds, half an avocado, and a cup of spinach in one sitting.
Both the Ninja and the Nutribullet come with excellent recipe books. However, an extra bonus with purchasing a Nutribullet is the online support community. They are very health-focused and provide a great deal of information, tips, and tricks for getting the most out of your blender.
Who Can Build It Stronger?
When you read the reviews of the two blenders, you might see several comments about how the Ninja Pro just seems to have a little better build quality. Certainly, the Ninja Pro, at 6.7 pounds, is heavier than the Nutribullet, at only 5.5 pounds.
The cups also seem to be just a little sturdier in the Nutri Ninja Pro. In addition, many people have found that the Ninja Pro has a sturdier base with a better rubber footing.
Ninja Fit Vs. Nutribullet
Ninja
fitness
Up to 16 oz
1 Speed + Pulse
700 watt
2x Cups
1x Blade
Recipe Book
Dishwasher Safe
1 Year Warranty
Check Price at Amazon
ON SALE!
NutriBullet
original
Up to 24 oz
1 Speed + No Pulse
600 watts
2x Cups
2x Blades
Recipe Book
Dishwasher Safe
1 Year Warranty
Check Price at Amazon
When you're looking at the Nutri Ninja vs. Nutribullet in the lower price bracket, you'll still be surprised at what sort of bang for the buck you get. Both bullet blenders are well-made but best suited for light use. Most blenders made by NutriBullet are designed for short use, down to the popular veggie bullet that capable of shredding, slicing, and spiralizing vegetables.
What do we mean? Well, the Ninja is a bit more powerful with 700 watts, while the NutriBullet's motor is only 600 watts. While stainless steel extractors blend frozen fruit, nuts, and crushing ice, you may find that you need to cut things up smaller.
Like their pro 900 blender counterparts, these smaller bullet blenders are dishwasher safe, come with recipe books and have a 1-year warranty. However, one of the biggest differences is in their capacities.
Although the NutriBullet with its a 24 oz capacity compares to the Nutri Ninja Pro, the Ninja Fit has a more limited 16 oz maximum capacity. However, as mentioned above, if you are concerned with portion control as part of weight loss management, this may not be a bad thing.
Who Can Build It Stronger?
While in the pro 900 blender options, the Nutri Ninja comes out as the winner, in the base models, it is a very different story. The NutriBullet weighs in at 7 pounds, making it the weightier of the four bullet blenders in this Blender Republic review. While the ninja blender is only 4.6 pounds, making it the lightweight of the group.
Ultimately, while heavier bullet blenders can seem more robust with the better build quality, this is just a human perception. The key thing regarding strength is more related to the internal workings than how robust the plastic cups are.
Child-Friendly
The NutriBullet market's itself as being safe for kids, and while the blades on a NutriBullet aren't as intimidating as the Ninji's, they're still sharp!
However, with help attaching the extractor blade, the design means that children aren't going to be putting fingers in moving parts. This is a big advantage over options like the Ninja Mega blenders, which are the more traditional style of a kitchen blender.
Many of the reviews for both blender brands do mention that there can be a bit of a knack to get them cup sitting in the base right. Several reviews also mentioned that removing the lids can be difficult when using certain ingredients. For most people, this isn't an issue, but if you are looking at an option for independent children to use, this may be a consideration.
Are There Concerns You Should Be Aware Of?
One thing that seems to be clear, if you read the online reviews for either brand of blenders, is that the vast majority of people really love their machines and get a lot of use out of them. However, there is also a definite trend toward certain consistent manufacturing failures.
Although you can buy the base units for between $50 – $100, it would be normal to expect to get several years of use out of the machines. Unfortunately, this isn't the case for everyone, so let's look at the concerns voiced for each unit.
Across all machines, there is a small percentage with leaking issues. The causes are different, and we will discuss this. However, some of the leaking issues are caused by overfilling. This can sometimes by using a different sized cup.
Ninja Fit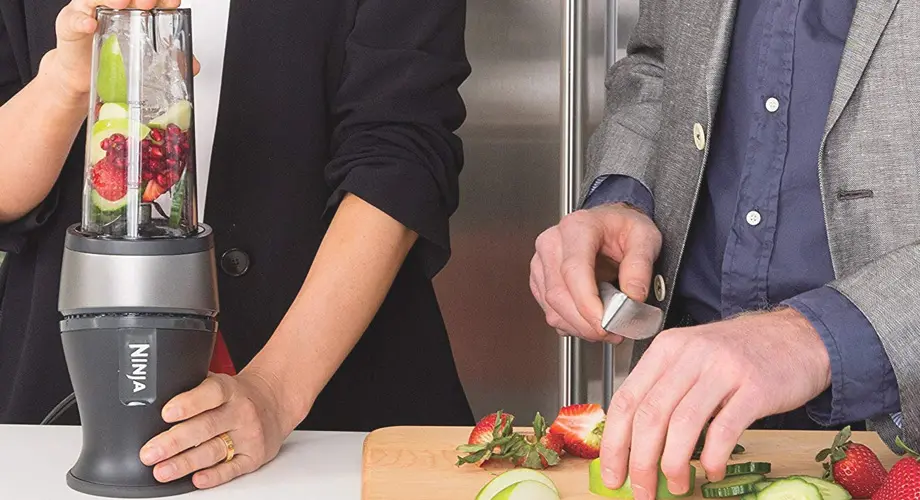 At around $50, this is the least expensive of the blenders we are looking at. However, the 16 oz capacity cups also make it the smallest option. For some, this is just too small, and with no option to upgrade, becomes a deal-breaker.
Most users get several years from this, although you may need to sharpen the blade every six months if you are a particularly heavy user. The company specifically warns against using this model to grind as it can cause damage to the cups (which may cause leaking).
For people that are using it every day, this machine seems to start having problems at around 3 months, with complaints ranging from leaking to the motor completely stopping. This is particularly if you use a lot of frozen fruit or ice cubes.
The other annoying issue is that this is loud. Of course, if you are blending noisy items like frozen carrots or ice, then it will be louder than soft banana and water, but noise is certainly a concern.
It also doesn't do a complete blend of raspberries or boysenberries. These are notoriously difficult to blend, so for many people, this won't be an issue, but if it is something you especially want, then this model may not be your best option.
Mid-range motor
Better quality blades
Better quality cups
Ice & Frozen Berries
Dishwasher safe parts
Very noisy
No hot liquid
Plastic gears
Plastic drive socket
Limited 1-year warranty
Nutri Ninja Pro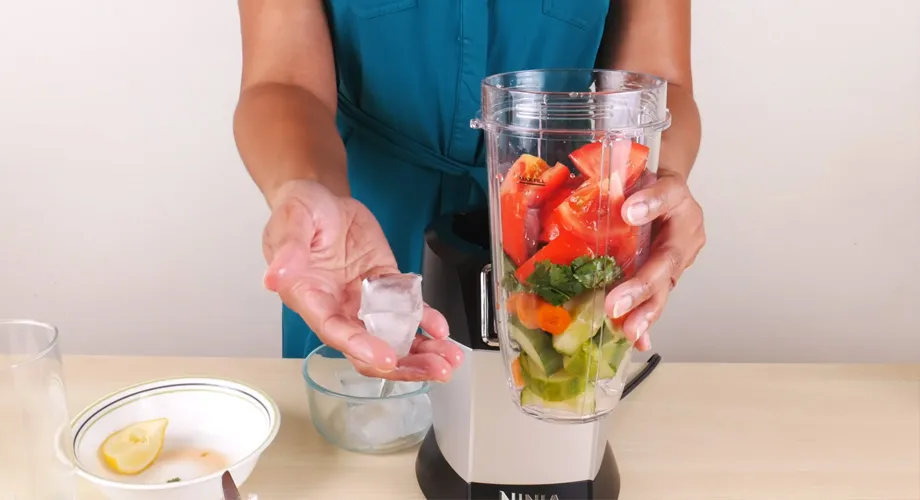 While NutriBullet [2] has built up a large supportive online community, Ninja seems to want to alienate customers. Lack of customer service is really the biggest complaint.
Like any product, a small percentage of these more powerful units have mechanical failures within a few months. Unfortunately, when this happens, customers are being ignored, receive demands for shipping payments, or being told that their month-old machine is already out of returnable warranty.
With all Ninja Bullets, you need to hold them down to blend, rather than push and lock as with the NutriBullets. If you were not expecting this, it might be an issue.
However, an actual concern is the size of the lids and their ease of use. For smaller hands, the lids may be uncomfortably large to use. Also, in order to prevent leaks, the lids do need to be put on very tightly. Unfortunately, with the pressure caused by blending, this may mean that the lid becomes difficult to remove.
The Pro model can be noisy, as would be expected with a 900-watt engine, but the noise will also be affected by the surface you have your blender on and what you are blending.
Powerful motor
Nuts & Seeds
Stringy vegetables
Ice & Frozen Berries
Easy to clean
Most expensive
Plastic gears
Plastic drive socket
Blender is very loud
Limited 1-year warranty
Original NutriBullet (600-watts)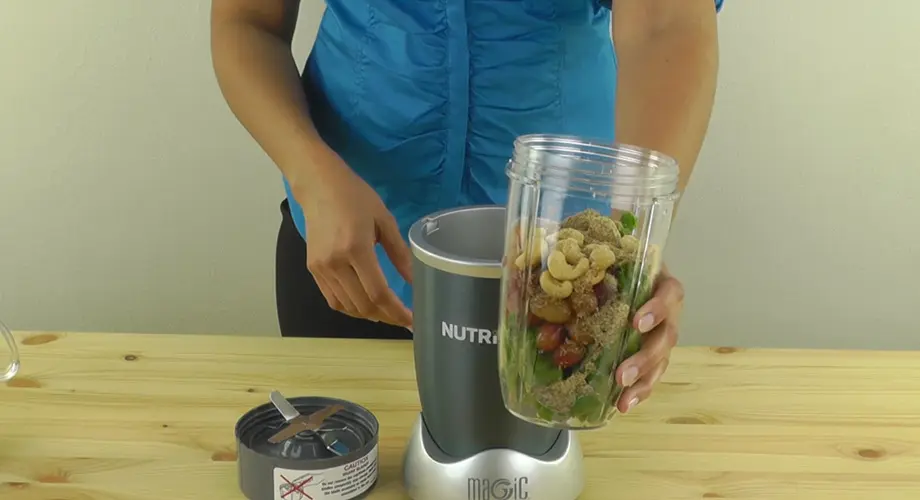 The biggest concern with this model is the rubber gasket, which is a small percentage, does not work, and may actually be completely pulled out. Beyond external leaking, the biggest issue is internal leaking.
This is where the internal workings have got liquid in them, which has caused some rusting. This then leaks rusty liquid into the cup while in use. The time frame for this is under 6 months, so check your warranty before you buy.
Mid-range motor
Protein & green smoothies
Ice and Nuts
Ease of use
Value for money
Plastic drive socket
Plastic tabs on cups
Hidden gasket ring
No stringy vegetables
Not for daily use
NutriBullet Pro (900-watts)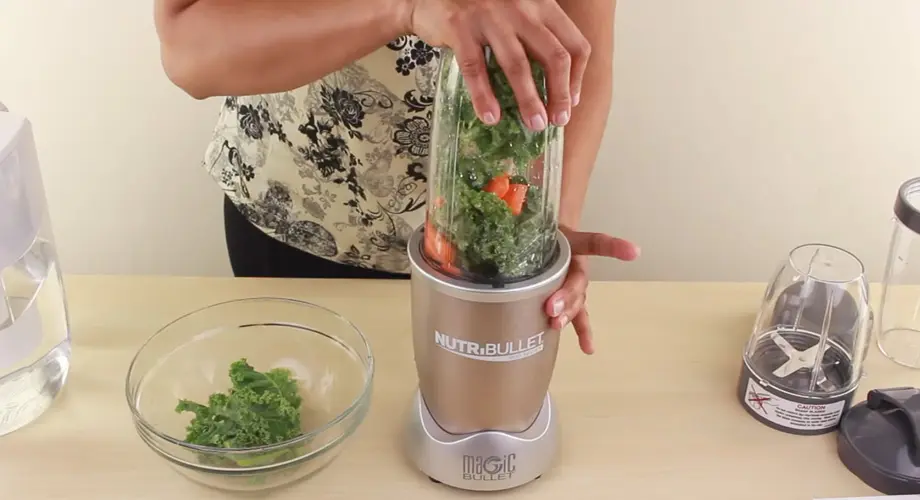 This is loud. It is very powerful, but if you want something to make baby food, you might want to consider a quieter model. Of bigger concern is the number of people who have reported it unscrewing while in use, blades that snap, or engines that start smoking then cause the plastic to melt or disintegrate. Customer support is good, but perhaps don't leave these unattended or be supervised by younger children.
Powerful motor
Ice and nuts
Protein & green smoothies
Stringy vegetables
Ease of use
Plastic drive socket
Plastic tabs on cups
Hidden gasket ring
Noisiest blender
More expensive
Which Has Better Accessories – Nutribullet vs Ninja
ON SALE!
Nutri Ninja
professional
1x Power Base
1x Extractor Blade
1x 12oz Cup
1x 18oz Cup
1x 24oz Cup
No Lip Ring
No Handle
2x Sealable Lid
1x Manual
1x Recipe Book
Check Price at Amazon
NutriBullet
professional
1x Power Base
1x Extractor Blade
1x 32oz Cup
1x 32oz Cup
1x Lip Ring
1x Lip Ring
2x Handled Lip Ring
2x Sealable Lids
1x Manual
1x Recipe Book
Check Price at Amazon
Ninja
fitness
1x Power Base
1x Extractor Blade
1x 16oz Cup
1x 16oz Cup
No Lip Ring
No Handle
1x Sealable Lid
1x Sealable Lid
1x Manual
1x Recipe Book
Check Price at Amazon
ON SALE!
NutriBullet
original
1x Power Base
1x Extractor Blade
1x Milling Blade
1x 24oz Cup
2x 18oz Cups
1x Handled Lip Ring
1x Lip Ring
2x Sealable Lids
1x Manual & Cookbook
1x Pocket Nutritionist
Check Price at Amazon
If you still are struggling to decide on Nutri Ninja vs. Nutribullet, let's help further by looking at some of the accessories each has.
Obviously, they all come with standard features such as the separate Power Base, the four-bladed stainless steel extractor blade, and a manual. However, from here, there are a few differences.
As mentioned above, the NutriBullet is the only option with a milling blade. This model also includes a Pocket Nutritionist, which includes information about superfoods.
A big advantage for the Nutri Ninja's is that both models come with sip and go lids as standard. The newer $90 Nutribullet Pro has started shipping with a to-go lid, but you can buy as aftermarket accessories for most Nutribullet machines.
The aftermarket Nutribullet flip-top to-go lids are around $10 for a pair, so when comparing the $50 Nutri Ninja with a $60 Nutribullet [1], this fact may be an influence.
Another big decider is going to be how many cups you need and what size you will likely use the most. The Nutri Ninja 900 Pro is going to be a winner for the undecided, with one cup in each of their three size options: 12oz, 18oz, and 24oz. While the NutriBullet is assuming that most people go middle of the road, providing 2 18oz cups and 1 24oz cup.
One of the ways that the Ninja Fit retains its place at the lowest cost is through providing a few cups, offering only 2 16oz cups. Although the most expensive option, the Nutribullet Pro also only provides two cups. They are both 32oz capacity. The comfort lip ring & the handle is also included.
Which Blender Is Best For You?
As you can see, when comparing Nutri Ninja vs. Nutribullet, there are minor differences. So, with the cost varying from around $50 up to around $90, it can be difficult to work out which is going to best suit your lifestyle.
Constantly On The Run
If you are looking for breakfast on the run, then the Ninja Fit should probably be your first option. It is the cheapest of the four, which makes it a great buy. However, the real selling point is that the 16oz cup comes with a sip & seal lid, making it perfect for a literal run to work.
As the Ninja Fit only has 700 watts, it is better suited to fruit and vegetable creations rather than liquids with a lot of nuts or ice crushing needs. However, for most frozen fruit, it is fantastic. You just need to make sure you chop them up – the whole frozen banana will be a strain.
Health Conscious Nut Milk Drinker
At the other end of the scale is the Nutribullet Pro, retailing for around $90. With bonus features that include a 32 oz cup which comes with a comfort handled lip ring, this has a lot going for it.
Because the Nutribullet Pro has a 900-watt motor, it has enough power to create your favorite nut milk. With the large capacity cup meaning you can back a batch rather than a single-serve. It is also great for crushing ice, so again when combined with a 32 oz cup, this becomes the perfect party tool.
For comparison, a standard plastic alternative party cup is 4 oz. So, whipping up a batch of healthy, somewhat alcoholic drinks for everyone is a breeze with the Nutribullet Pro.
As an extra bonus, this blender is the only one, so far, that has made the bold move to be available in a great range of colors. Ok, no, it doesn't make a difference to how well it will work, but it is still a neat option to have.
The Gourmet Chef
If you love to create in the kitchen, then you will love the NutriBullet. Don't be put off by the 600 watts motor. It has a very respectable 24 oz capacity cup, but more importantly, it has an additional milling attachment.
So, while the other three blenders will make soups, smoothies, and nut milk, this has extra functionality. The 2-pronged milling blade can be used, as the name suggests, to mill grains. Meaning homemade almond flour or coconut flour can quickly save you that $60 the NutriBullet retails for.
You can also use the milling blade for dry chopping up fresh herbs and chopping nuts. This means you have chopped ingredients rather than liquidized.
Like the Nutribullet Pro, it also comes with an attachable carry handle. So, sipping on your freshly made beverage while you're inventing gourmet creations is super easy.
The Power Drinker
If you prefer a thinner breakfast drink that is still packed full of the nutrients from almonds or cashews, then the Nutri Ninja 900 Pro should be your top consideration. The 900-watt engine gives it the power to pulverize ice and create nut milk.
So, why do we say it's for power drinkers? The 24 oz capacity cup with a sip & seal lid. One of the problems with many smoothies is you end up having way too much fiber and not enough liquid, so a good 24oz cup helps alleviate this. Yet, the Nutri Ninja 900 Pro also comes with 12-ounce and 18-ounce cups, so you do have flexibility.
Yes, this is $70 worth of serious on-the-go power drink-making machine. When you combine the powerful engine with a decent capacity cup and a very convenient lid, it gets a tick in every box, particularly for big drinkers.
Which To Buy?
After analyzing the blenders thoroughly, which one is going to work for you? It isn't just looking at Nutribullet vs. Ninja, as the four models each have a quite unique purpose, and there will be one that is the standout.
I personally do like to have the power to chop through nuts and completely remove the seeds from raspberry, making the pro 900 blenders a great option. As gorgeous as the multicolor Nutribullet is, the 32 oz cup is just too big for a single-serve breakfast drink, requiring additional investment in a smaller cup.
For people on a Keto diet, the milling blade of the NutriBullet would be a bonus. However, my primary need is still a breakfast smoothie. So, my ultimate purchase is going to have to the Nutri Ninja Pro. It has power, a decent size cup but not too large, and a sip and go cup.
Ultimately, read through and decide which is going to be best for your needs.
FEATURED PRODUCTS
ON SALE!

Nutri Ninja Pro

Up to 24 oz
900 watt
1 Speed + No Pulse

Check Price
NutriBullet Pro

Up to 18 oz
200 watts
3x Cups

Check Price
ON SALE!

NutriBullet

1x 24oz Cup
1x Milling Blade
1x Handled Lip Ring

Check Price