There's no doubt, the Vitamix is an awesome blender. If you're this far down the path as far as decision-making goes, you'll already have a fair idea of what they are capable of. With all the different models available for purchase, it can seem more than a little confusing.
Performance-wise, all Vitamix blenders handle pretty much the same. Different models come with added features such as programs, automation, and or a touch screen display. This review looks to help point out the differences between the Vitamix 6500 vs. 7500.
Differences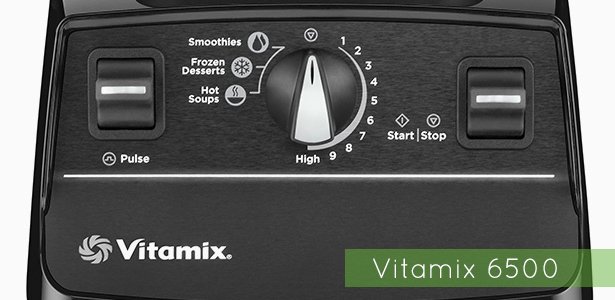 The Vitamix 6500 comes with 3 pre-programmed settings being: smoothies, frozen desserts, and hot soup. The Vitamix 7500 has no pre-programmed settings.
The power switch is located at the front of the Vitamix 6500, under the Vitamix logo – below the control panel. The power switch on the Vitamix 7500 is located at the back of the machine on the right-hand side.
The size of the Vitamix 6500's base is slightly larger when compared with the 7500's slimmer base. The design layout of the interface is different with the 6500 adopting the classic fit while the 7500 features the new design.
Similarities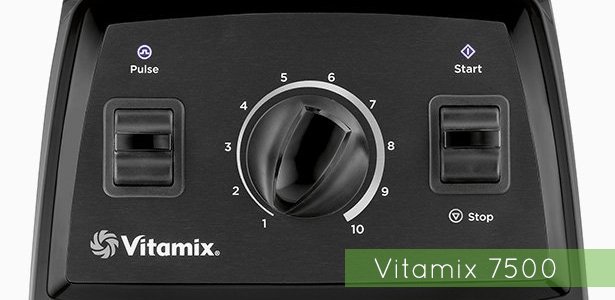 There are no performance differences between the two machines – both will give you the same results – depending on how you use the blender.
Both machines share the same 1200 Watts / 2.2 horsepower motor.
Both machines come with the same 64-ounce low-profile container – designed to fit under your kitchen cabinet.
Both machines feature a pulse switch to the left of the variable speed control. The variable speeds range between 1 and 10. To the right of the variable speed control is a handy start & stop switch for manual control.
Both models come with a recipe book and tamper for those tricky items.
Both machines come with Vitamix's amazing 7-year warranty and are made in the USA.
Conclusion
So there you have it! From what you can see above the only real differences between the two models are the locations of the power switch and the three pre-programmed settings on the Vitamix 6500.
Both machines perform the same, look relatively similar, and feature the same 64-ounce low-profile container with the same blade housing. Both feature Vitamix's 7-year warranty. No matter which you decide upon, you're sure to be impressed as I was!
If you were wondering how the Vitamix 7500 compares to the 5300, be sure to see our Vitamix 7500 vs 5300 guide.
FEATURED PRODUCTS
Vitamix 6500

Up to 64 oz
Variable speed control
2.2 HP

Check Price
ON SALE!

Vitamix 7500

10 Speeds + Pulse
Up to 64 oz
2.2 HP Motor

Check Price