Freshly made green juice is great for your health. Unfortunately, we live in a busy world. Not everyone has time to shop for and prepare fresh ingredients every day, and the high-powered juicers needed to blend those ingredients don't always come cheap. This is where Organifi Green Juice comes in.
Developed by Drew Canole of Fit Life TV, a popular fitness and motivational coach who has long been an advocate of the health benefits of juicing and also the author of several books of juice recipes, Organifi's Green Juice Mix is a powdered drink mix made of an impressive list of known healthful ingredients.
It is simple to make, and if you want the juice but hate the juicing, you'll be happy to have it on hand for those mornings when you're running late.
Now, down to the review.
Who is the product best suited to?
Organifi Green Juice seems to be good for just about everyone. Health benefits aside, part of its appeal lies in the fact that it is affordable, doesn't require the use of either a juicer or blender (all you need is a glass and spoon), and actually tastes good, thankfully avoiding the bitterness that juicing some whole greens can release.
Studies shown by the New York Times show that smoothies and green powdered drinks are far healthier and better for you than your traditional shelf Juice.
Positive reviews can be found from a wide variety of consumers, who either love it themselves or are happy to have finally found a green juice they can get their families to drink without grimacing, or those who are completely new to juicing and bought this mix as a convenient introduction before deciding to buy a juicer or blender, only to find that this served their purposes perfectly.
How to use the mix
The preparation of Organifi Green Juice is foolproof. One bottle contains thirty servings, and the recommended amount for adults is one to two servings per day.
Find your favorite smoothie cup (if you don't have a favorite smoothie cup, you can check out our review of five good possibilities), glass or water bottle, and add one scoop of the mix to water, or if you prefer, low-calorie rice or almond milk.
Then just stir and enjoy! The mix can also be added as an extra boost to other prepared juices or smoothies. And yes, it really is that simple to prepare.
Ingredients and Benefits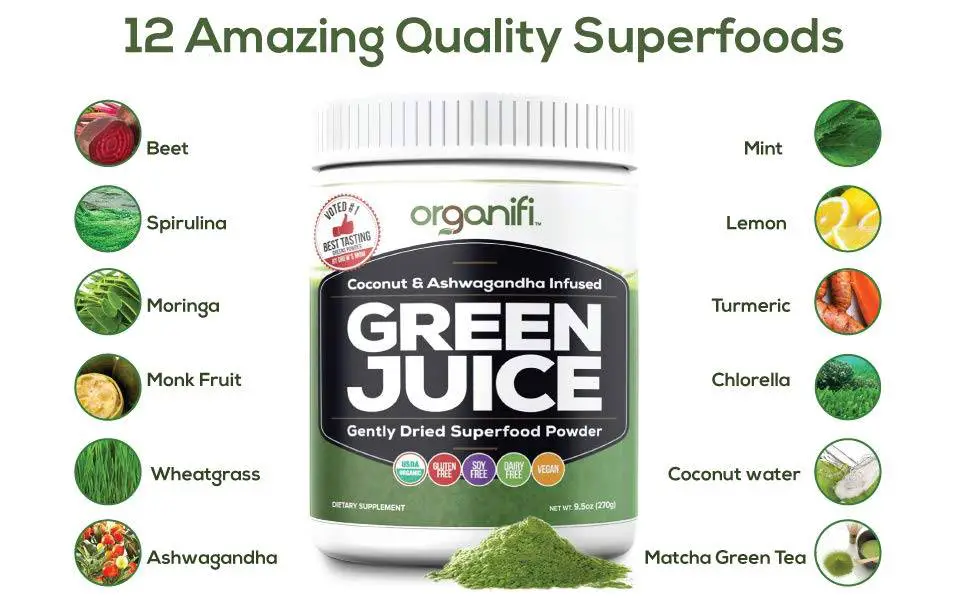 The list of ingredients that make up the Organifi Green Juice Mix is a little lengthy, but because those ingredients are what makes this product so special, we wanted to make sure and clarify them a little so consumers will be aware of what they'll be getting in each glass of this juice.
Because Organifi Green Juice is made of two proprietary blends, the "Alkaline Greens Blend" and the "Super Food Blend", the exact amount of each ingredient in each serving is not specified, but the blends combine to contain the following:
All of these ingredients add up to an equally impressive list of health benefits. Organifi Green Juice Reviews written by fans of the juice mix report feeling reduced levels of stress and anxiety, having noticeably healthier skin, hair, and nails, and feeling a lot more energetic and focused as they go about their day.
Some people have reported that it was easier to lose weight once they began using Green Juice regularly. Your immune system will also reward you for the powerful dose of so many vitamins and minerals.
Organifi Green Juice Mix is USDA organic, vegan, and gluten-free. It contains no artificial sweeteners.
Pros and Cons
It's been mentioned, but it's worth pointing out again that this mix is a real-time saver. Whether you're a juicing pro or a novice looking to get on a clearer path to a healthier, happier lifestyle, this mix is going to save you time and trouble.
No more costly trips to the grocery store every other day to keep your fridge stocked with juice ingredients. No more time spent meticulously cleaning every nook and cranny of your countertop juicer after making one glass of juice. With this mix, you just scoop, stir and go. It doesn't get much easier than that.
Both freshly made and packaged green juices are notoriously odd-tasting (people often say they taste like grass or dirt) and don't always have a very palatable texture. Many Organifi Reviews posted online to make it a point to mention the surprisingly pleasant taste of this Green Juice Mix – a little minty and refreshing rather than thick, grainy and bitter.
This is a proactive, healthy lifestyle choice that won't break the bank. The cost of one bottle breaks down to the extremely reasonable price of only $1.93 per serving (at the time of this article) – making it significantly more affordable than a lot of similar products on the market.
You'll feel better as you go about your day-to-day life. Maybe you didn't even realize how lethargic you'd felt because you're just used to it, but after just a week or so of drinking one serving of Organifi Green Juice a day and you'll start to feel the difference in your energy level and your ability to concentrate.
How to Buy Organifi Green Juice
If your interest has been piqued, you can purchase Organifi Green Juice Mix from their website or from Amazon. The Organifi site offers several purchasing options in the form of one-time orders or monthly subscriptions in quantities of one, three, or six bottles a month.
And as an added plus, if you're even a little curious about giving Organifi Green Juice mix a try, the company has made it easier for you by offering a no-risk, 30-day trial. If for some reason you aren't happy with your purchase, even if it's because you try it out, just don't like the taste, if you contact customer service during the 30 day trial period, Organifi will refund your money.
When it comes to something that could improve your overall health, what have you got to lose?
FEATURED PRODUCT
ON SALE!

Organifi Green Juice

Organic Dried Super Greens Powder
Results you can see
Great value for Quality

Check Price